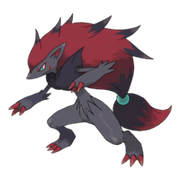 Zoroark (Japanese:ゾロアーク Zoroark) is a Dark-type Pokémon introduced in Generation V.
Zoroark is a foxlike Pokemon covered mainly in dark grayish fur. It has a pointed muzzle, red lining around its eyes and mouth, teal eyes, a fluffy black ruff of fur around its neck, and a long, voluminous crimson red spiky mane with gray tips. A teal-colored band encircles the bottom part of Zoroark's mane like a ponytail. It has three sharp red claws on both its hands and feet.
Zoroark is able to stand upright on two legs like a biped, but it usually runs upon its forelimbs.
Trainers That Has A Zoroark
N/A
Ad blocker interference detected!
Wikia is a free-to-use site that makes money from advertising. We have a modified experience for viewers using ad blockers

Wikia is not accessible if you've made further modifications. Remove the custom ad blocker rule(s) and the page will load as expected.