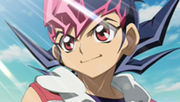 Official Description
Yuma Tsukumo (九十九つくも 遊馬ゆうま, Tsukumo Yūma) is the main protagonist of the Yu-Gi-Oh! ZEXAL series. He is a young Duelist who aspires to be the greatest, despite his amateur skills. He finds himself reluctantly partnered with a Dueling spirit called Astral. Together, they pursue the "Numbers" to recover Astral's scattered memories, becoming a Number Hunter while cultivating his Dueling abilities during their adventures. After being victorious in the World Duel Carnival, Yuma is the Duel Champion of Heartland City.[20] He is also the Original Number's other half that was separated from him, during Astral's battle with Don Thousand long ago.[18]
As Yuma cooperates with Astral and assists him in the gathering of his "Number" cards, Yuma learns the truths that connect him to his destiny through his beloved father, Kazuma Tsukumo, and becomes an important participant in the Interdimensional War between the Astral World and Barian World.
Mixels Fanon Wiki Description
Yuma is a duelist in Mixels-Yu-Gi-Oh, he makes cameo appearances in some episodes and full appearances in some episodes. He tries his best to win any duel, and he keeps "feeling the flow".
Opponents/Outcomes
Dark Seismo (WIN)
Ad blocker interference detected!
Wikia is a free-to-use site that makes money from advertising. We have a modified experience for viewers using ad blockers

Wikia is not accessible if you've made further modifications. Remove the custom ad blocker rule(s) and the page will load as expected.