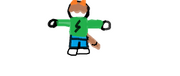 Thunderbolt X is a character from TURBOMixel997's YouTube series Digimon Pokemon Zexal Fusion X, His first appearance was in the christmas special "Christmas Party" with his younger twin brother
Thunderbolt Red X
.
First Appearance:Christmas Party
Name:Thunderbolt X
Age:15
Skin Color:N/A
Birth Date:N/A
Shirt Color:Green w/ Thunderbolt
Pants Color:Red
Shoe Color:Grey w/ Black outline
Friends:Thunderbolt Red X (younger twin brother), Yuma, Ash, etc.
Enemies:Dark Comet, Dark Flash, Dark Flain, etc.
(Fancy Way)
Appearance:Black doggy hat on head, tie on shirt, fox tail on right side of pants, pocket sleeve on left side of pants.
(True Form)
Appearance:Green shirt, yellow vest on shirt, red shirt sleeves, spikes on shirt sleeves, 2 swords in hand.
(Fox Version)
Ears on head, green shirt w/ Thunderbolt, blue pants w/ black outline, fox tail.
Opponents/Outcomes
Footi (WIN)
Mixels Fanon Wiki Description
Thunderbolt X is a duelist in Mixels-Yu-Gi-Oh. And is part of the "Number Hunting Team".
Ad blocker interference detected!
Wikia is a free-to-use site that makes money from advertising. We have a modified experience for viewers using ad blockers

Wikia is not accessible if you've made further modifications. Remove the custom ad blocker rule(s) and the page will load as expected.