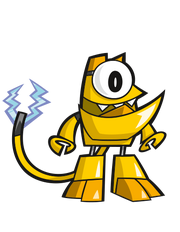 Teslo is the most mature of his tribe, fitting him to be leader. Compared to the other Electroids, he's the smartest and most serious. He treats his brothers like students, but he still cares for them very much. He also has some fairly nerdy tendencies, such as wearing an outdated exercise outfit when he jogs or wearing a mortarboard when he teaches lessons. His fear of heights is not helped by his habitat's location and he tries to keep it a secret, but is completely unaware that his brothers secretly know about his fear, but they would never dare to tell him that they know.
Mixels Fanon Wiki Description
Teslo is a duelist in Mixels-Yu-Gi-Oh, he was (possibly) known to have a number. That's because Teslo is in the "Number Hunting Team".
Yu-Gi-Oh Opponents/Outcomes
Super Dark Tails (LOSE w/Volectro)
Flain (LOSE)
Flain (LOSE w/Volectro)
Flain (LOSE)
Ad blocker interference detected!
Wikia is a free-to-use site that makes money from advertising. We have a modified experience for viewers using ad blockers

Wikia is not accessible if you've made further modifications. Remove the custom ad blocker rule(s) and the page will load as expected.