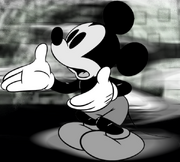 Suicide Mouse is a creepypasta character in the games Suicide Mouse, Happy Mouse, Really Happy Mouse and Five Nights At Treasure Island. And he is known as the only character in Suicidemouse.avi. He is a duelist in Mixels-Yu-Gi-Oh:The Next Generation. His first opponent was Tails Doll in Tails Doll Vs MickeyMouse.EXE (Yu-Gi-Oh Duel). He is known as a suit in Five Nights At Treasure Island.
Yu-Gi-Oh Opponents/Outcomes
Tails Doll (LOSE)
Pokemon Opponents/Outcomes
Unknown.
Ad blocker interference detected!
Wikia is a free-to-use site that makes money from advertising. We have a modified experience for viewers using ad blockers

Wikia is not accessible if you've made further modifications. Remove the custom ad blocker rule(s) and the page will load as expected.