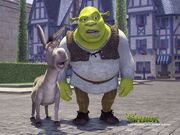 Shrek is love, Shrek is life. He is also Santa Claus' rival.
Physical Appearance
He looks like an ogre.
Shrek Claus
Shrek Claus is Shrek drssed up as Santa Claus. Unlike Santa, Shrek Claus delivers onions to the nice kids, while naughty kids get nothing or a random punishment. He rides a sleigh similar to Santa's, and he has only one Reindeer: Donkey.
Trivia
He is one of the only characters who don't have to do with Mixels or this wiki.
Appearances
Ad blocker interference detected!
Wikia is a free-to-use site that makes money from advertising. We have a modified experience for viewers using ad blockers

Wikia is not accessible if you've made further modifications. Remove the custom ad blocker rule(s) and the page will load as expected.