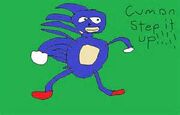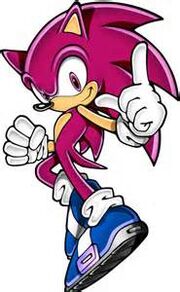 (Note: This is a joke. It is not meant to be taken seriously.)
Sanic 20 HP
Pink Sonic 20 HP
Pink Sonic: Let's do this baby!
Sanic: UR 2 SLU
(Sanic uses potion of swiftness and attacks Pink Sonic)
Pink Sonic 18 HP
Pink Sonic: Aw man! YOU THINK YOU CAN DO THE REST? LET'S SEE!
Taels: MAH MUNY AWN SANIC
(Pink Sonic & Sanic fight eachother with enchanted swords)
Sanic 9 HP
Pink Sonic 6 HP
Pink Sonic: You're not gonna win!
Sanic: CUMON STEP IT UP!
(Pink Sonic charges at Sanic with a sword)
Sanic: GTA GO FST
(Sanic teleports using ender pearl and dodges Pink Sonic's attack)
Sanic 7 HP (Because ender pearls take damage.)
Pink Sonic: DANGIT! I MISSED! I HOPE YOU CAN'T SURVIVE THIS!!!
(Charges again, but Sanic attacks Pink Sonic with enchanted arrow)
Pink Sonic 0 HP
SANIC WIN
Sanic: SANIC SPID
Coming up next: Mr. I VS Muscle Nixel
Ad blocker interference detected!
Wikia is a free-to-use site that makes money from advertising. We have a modified experience for viewers using ad blockers

Wikia is not accessible if you've made further modifications. Remove the custom ad blocker rule(s) and the page will load as expected.