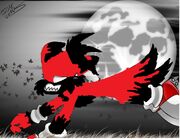 Personality
Red Tails is a character in Mixels Fanon Wiki, along with Black Tails (which Black Tails is Red Tails' brother). And Red Tails is a duelist, he started dueling since Dark Sonic became a duelist. He can beat Tails Doll in a duel! Red Tails has a cooler car than Flain's. He is friends with Sonic.EXE, Tails, Tails Doll, Sonic, Knuckles, etc.
Abilities
Can move things with his mind
Can turn into a werefox
Attacks
Thunder Slash
Electrical Ray
Thunderbolt Strike
Weaknesses
Rock music
Sonic Games
Electrical Guitars
Friends
Sonic.EXE
Tails Doll
Black Tails (brother)
Dark Sonic
Tails
Sonic
Flain
Knuckles
Enemies
Dr. Eggman
Dark Comet
Dark Flash
Dark Flain
Mixels Fanon Wiki Description
Red Tails is a duelist in Mixels-Yu-Gi-Oh. And is part of the "Number Hunting Team".
Yu-Gi-Oh Opponent(s)/Outcomes
Zazz (WIN)
Ad blocker interference detected!
Wikia is a free-to-use site that makes money from advertising. We have a modified experience for viewers using ad blockers

Wikia is not accessible if you've made further modifications. Remove the custom ad blocker rule(s) and the page will load as expected.