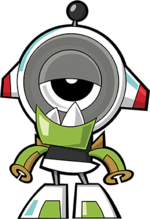 Nurp-Naut is an Orbiton Mixel.

Nurp-Naut has two personalities: his two-eyed side has the mind of an innocent toddler, while his cycloptic side has the mind of a wise elder. The latter side is very smart, but Nurp-Naut suffers from forgetfulness that hinders these abilities. He is also sometimes accident-prone.
Nurp-Naut has a white body with a black collar in the middle, and two golden triangular parts on both side. He has yellow-green arms with small golden hands, and a yellow-green underbite with two teeth pointing up. He has a grey body with one dopey eye, and a white highlight surrounding the head, and two points with red tips, and a black antenna. He has two white feet with one yellow-green toenail on each. He also has grey eyelids, and a set of two eyes and lights at the back of the body.
Nurp-Naut can fly with his jetpack and his cycloptic side is very wise.
Yu-Gi-Oh Opponent(s)/Outcomes
Unknown, so far.
Pokemon Opponent(s)/Outcomes
Unknown, so far.
Ad blocker interference detected!
Wikia is a free-to-use site that makes money from advertising. We have a modified experience for viewers using ad blockers

Wikia is not accessible if you've made further modifications. Remove the custom ad blocker rule(s) and the page will load as expected.