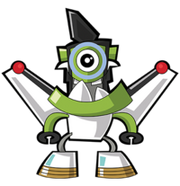 Niksput is an Orbiton Mixel.
Niksput, despite being charming and having a high brovado, has a slow mind. He has the tendency to say that he is up for anything, but only realizing later of the consequences of his actions and ending up terrified.
Niksput has a white body with a yellow-green underbite with two teeth pointing up, two arms with white wings with red lights at the tips. Over the wings are yellow-green arms with black hands. His head has one cycloptic eye covered by a glass cover, and two yellow-green sides with white points underneath. He sports a pompadour hairstyle, and one jet-pack roaring with fire. His eyelids are black.
Yu-Gi-Oh Opponent(s)/Outcomes
Unknown, so far.
Pokemon Opponent(s)/Outcomes
Unknown, so far.
Pokémon Used By Niksput
Ad blocker interference detected!
Wikia is a free-to-use site that makes money from advertising. We have a modified experience for viewers using ad blockers

Wikia is not accessible if you've made further modifications. Remove the custom ad blocker rule(s) and the page will load as expected.