series = Gods
previous = Murp (episode)
current = #08
next = Another Nixel

Sorry, I missed you. -Postman Bross/Trace E.

name= Mailman

image=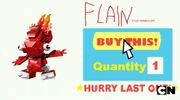 imagesize= 250px
caption= All that, just for this.
season= 1
episode number= 8
prodcode=102E
airdate= March 25, 2015
characters= Wiztastics
Felipebross
previous= Murp
next= Another Nixel


Mailman is the eighth episode in season one of Gods. It first aired on March 25, 2015.
Plot
A frustrated Trace E. must team up with Mesmo and Wizwuz to catch a lightning fast mailman: Felipebross.
Characters
Major Characters
Maxes
Photos
Ad blocker interference detected!
Wikia is a free-to-use site that makes money from advertising. We have a modified experience for viewers using ad blockers

Wikia is not accessible if you've made further modifications. Remove the custom ad blocker rule(s) and the page will load as expected.