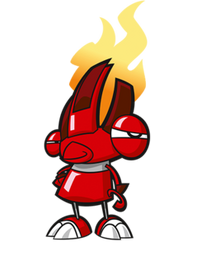 VS
Flain:It's time to save the world (once and for all)!
Overlord:I WILL DESTROY YOU!!
DUEL!
Flain LP 4000
Overlord LP 4000
Flain:I go first! I summon Cosmo Queen & Tri-Horned Dragon both from my hand. I overlay my monsters in order to build the Overlay Network, I Xyz Summon Number 22:Zombiestein. Then i summon Dodger Dragon. I end my turn.
Overlord:I draw! I summon Infernity Archer. When i have no cards in my hand, this card can attack you directly!
Flain:AAAAAAAHHH!
LP 4000 - LP 2000 = LP 2000
Overlord:I end my turn.
Flain:I draw! GO, attack that archer!
Overlord:AAAAAAAHHHHHH!
LP 4000 - LP 2500 = LP 1500
Comet:(thinking) I hope Flain knows what he's doing.
Major Nixel:GO, Flain......
(All cheering for Flain, chanting "Flain")
Nurp-Naut:I hope he wins this.....
Overlord:(evil laugh) You think you'll defeat me?!?! I draw. I summon Goblin Black Ops. GO, attack Flain directly.
Flain:AAAAAHHH!
LP 2000 - LP 1300 = LP 700
Overlord:I summon Avatar of The Pot. I end my turn.
(Flain looks at Burnard)
Burnard:Go for it.
Flain:This duel is over! I draw! GO, attack Avatar of The Pot.
Overlord:AAAAAAAAAAAAAAAHHHHHHHHHHHHH!!
LP 1500 - LP 3300 = LP 0
Flain WIN
(All cheering)
Flamzer:Flain did it.....like a true duelist.
Burnard:PARTY TIME!
All:MAX!
Major Nixel:Let's celebrate!
(Ariana Grande-One Last Time plays)
Major Nixel:Congrats, Flain. You've defeated The Overlord, and i wish i can be on your side.
Flain:Fine, you can be on our side.
Major Nixel:(hugs Flain) And you're the greatest DUELIST in all of Mixel Land.
Tails Doll:True. Very true.
(Meltus sneezes)
Meltus:I like you, Flain. As a friend.
Flain:Well, thanks everyone.
Sonic.EXE:You're welcome, Flain. We've beaten our enemies as a team.
Rodney:Isn't that right, Fender?
Fender:Yes, it is.
Dark Sonic:Hey, Flain.
Flain:Dark Sonic? I've haven't seen you since the last time we've seen together.
Dark Sonic:Now, we meet again.
All:WE SAVED THE WORLD!!
THE END
Ad blocker interference detected!
Wikia is a free-to-use site that makes money from advertising. We have a modified experience for viewers using ad blockers

Wikia is not accessible if you've made further modifications. Remove the custom ad blocker rule(s) and the page will load as expected.