MOD being used: Rival Rebels Mod


VS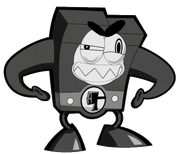 Bowser 50 HP (Weapon used: Flamethrower) (Wearing diamond armor)
Mr. I 10 HP (Weapon used: Tesla Cannon) (Wearing diamond armor)
Major Nixel 50 HP (Weapon used: Ein-Sten Laser) (Wearing diamond armor)
Muscle Nixel 29 HP (Weapon used: Plasma Cannon) (Wearing diamond armor)
Bowser: You can't have a fight without a winner!
Major Nixel: Oh, no winner? WELL IT LOOKS LIKE I'LL BE THAT ONE!
Mr. I: WHAT!?
Bowser: LET'S GET THIS STARTED WITH!
Mr. Eye: YEAH! Tesla Cannon, NOW! *Shocks Muscle Nixel*
Muscle Nixel: 16 HP
Major Nixel: IT'S THAT POWERFUL!?!?!? I must stop him before he shocks me! TASTE MY LASER! (Almost shoots Mr. I with Ein-Sten Laser, but Bowser protects Mr. I and attacks Major Nixel with Flamethrower)
Major Nixel: DRAAAAAAAAAAAAAAAAAAAAAAAAAAAAAAATS!
Major Nixel 38 HP
Mr. I: You saved my life! Thank you so much!
Bowser: Wait, i'm actually being credited? That's never happened to me... T-t-t-thank you.
Major Nixel: BWAHAHAHA! You can stop lollygagging now since i'll make you stop now! YOU MISERABLE NIXEL, ATTACK!!!
Muscle Nixel: NIX! (Shoots Bowser, but Mr. I sacrifices himself to save Bowser by getting hit by the blast, and is defeaten.)
Mr. I 0 HP
Mr. I: Please. Go on without me. It's too dangerous to go with me. Take my weapon just in case. Take it. Please. (Dies, but respawns somewhere. Disqualified from current battle.)
Major Nixel: Hah! Now it's your turn!
Bowser: I think NOT! (Attacks with flamethrower, but flamethrower is out of fuel.) What?
Major Nixel: (Shoots Bowser with Ein-Sten laser.)
Bowser: 39 HP
Bowser: Wait! I have Mr. I's Tesla Cannon! I can do this!
Muscle Nixel: Nope.
Bowser: YOU SHALL PERISH YOU PUNY PURPLE PUNKS!
Major Nixel: I'm not purple!
Bowser: Now you are!
Major Nixel: Wait, what? Hey, you tric-
(Muscle Nixel & Major Nixel get shocked by the Tesla Cannon. Bowser uses all of Tesla Cannon's power.)
Major Nixel: AAAAAAAAAAAAAAAAAAAAAAAAAAAAAAAAAAAAAHHHHHHHHHHHH!!!
Muscle Nixel 0 HP
Major Nixel 0 HP
Major Nixel: It's not over yet! I have your little rectangle friend and the miserable Mixels with me, right in the Nether! Dare to fight me if you can! I have someone... On my side...
Bowser: First of all, MY FRIEND IS NOT A RECTANGLE! And, I accept your dare.
Bowser WIN
Next battle: Bowser VS Major Nixel & Herobrine (Minecraft Duel)
Ad blocker interference detected!
Wikia is a free-to-use site that makes money from advertising. We have a modified experience for viewers using ad blockers

Wikia is not accessible if you've made further modifications. Remove the custom ad blocker rule(s) and the page will load as expected.